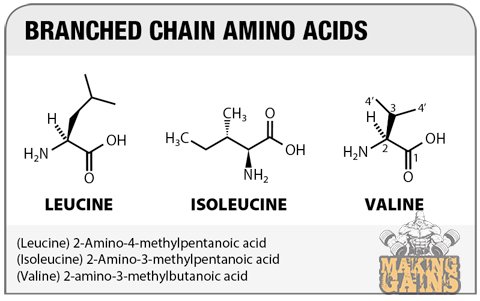 09 Mar

BCAA's – Branched Chain Amino Acid's and you

BRANCHED CHAIN AMINO ACID (LEUCINE FOCAL) AND YOU

WHAT ARE BCAAs?

Branched-chain amino acids (BCAAs) refer to three proteinogenic amino acids: leucine, isoleucine and valine. These are essential nutrients gathered from foods especially meat, dairy products, and legumes. BCAA's are essential because your body needs them. Unfortunately, they are not produced by your body, unlike glutamine. They are called "branched-chain" because of their chemical and molecular structure. They help in protein metabolism, hence the name.

DO THEY BENEFIT THE MUSCLES?

BCAAs either increase protein synthesis or decrease protein degradation or both, studies show. This means that, the more protein is synthesized, the more it is helpful for the muscles. So yes, they do benefit the muscles.

These are the following benefits of BCAA's to your muscle:

REDUCE MUSCLE BREAKDOWN

BCAAs are the amino acids responsible for the skeletal muscles. Obviously, after some strenuous activity, your muscle would get sore. But, thanks to BCAAs, they are thought to help repair damaged muscles, decrease muscle soreness and increase muscle function.

HELP BUILD MUSCLE

Not only BCAA- more specifically leucine- reduce muscle breakdown, they also help build muscles.

According to the Journal of Nutrition:

"It has been reported that BCAA supplementation before exercise attenuates the breakdown of muscle proteins during exercise in humans and that leucine strongly promotes protein synthesis in skeletal muscle in humans and rats, suggesting that a BCAA supplement may attenuate muscle damage induced by exercise and promote recovery from the damage."

IS IT JUST HEARSAY THAT BCAAs IMPROVE EXERCISE PERFORMANCE?

Ever heard about serotonin? Your body produces that after some strenuous activities or exercises, causing you to experience fatigue. And, guess what? BCAAs reduces serotonin, therefore lessening your chances of experiencing fatigue, leading to a more enhanced performance. And no, it ain't a hearsay.

ANY DOWNSIDES OF BCAAs?

There aren't much risks of taking too much BCAA'S except that you might develop diabetes. The BCAA leucine, which activates mTOR. Excessive mTOR and protein will affect your body in a profoundly negative way. As much as elevated levels of insulin isn't good for your body, trust me, so does elevated levels of mTOR. It is not like you will get the insulin type 1 diabetes, but you sure would catch type 2 diabetes. This happens when you get too much BCAAs.

DOSAGE OF BCAAs

Here at Making Gains, we suggest everytime you take in BCAAs, you should go with about 5-10 grams. The most important timing factors are around your workouts, which is when you'll need them the most. We suggest running 5-10g before AND after your workout to maximize the benefit of BCAAs. You can however on top of those two doses just mentioned, take them first thing as you wake up on an empty stomach and drink them throughout the day to keep hunger at bay and hydration levels ideal.

At Making Gains we have tonnes of BCAA products to help you achieve your ideal intake, check out our BCAA section and grab some.